As July transitions into August, I suddenly see people starting to adopt fall "transitional" outfits. It's as if our favorite pieces from our summer wardrobes get put right back into our closets to await the arrival of next year's warm weather.
Well, I hate to break it to you all, we still have a good month and a half of the official summer season left. And down here in Houston, there are roughly three + (at least) more months of warm summer heat. Looks like my favorite summertime pieces aren't going anywhere anytime soon!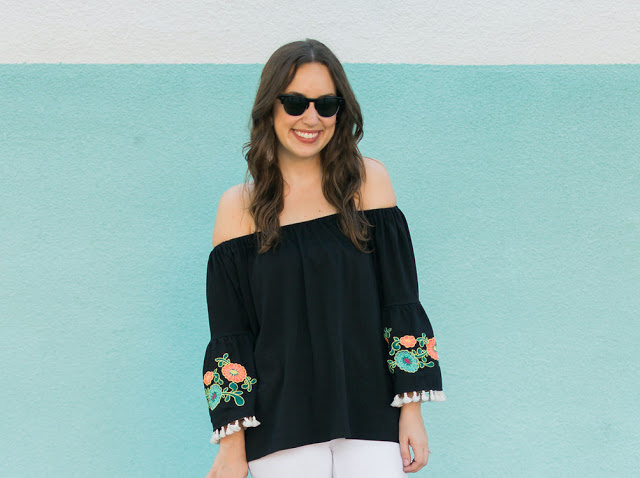 Favorite summer pieces include white jeans, wicker purses and of course:
floral embroidered boho tops
! This "summer daze" off the shoulder number from
Jess Lea Boutique
is sweet summertime perfection. Particularly because it incorporates pretty much all of my favorite trends at the moment: off the shoulder, embroidery and tassels. Stop by Jess Lea, an adorable online boutique, to snag it in either black, cream, or blue! Plus, Jessica the owner, is a Houston gal too!
For those of you in climates where it may get a bit colder soon, this top can easily transition into fall as well, (try blue jeans, boots & a black floppy felt hat.) But to me, it's a quintessential summer piece. Patrick and I are currently planning a beach trip in the next month or so with my whole side of the family, and you can bet that this oh-so summery top will be on heavy rotation while out and about in 30A!
We haven't had a "big" vacation yet this summer, and I'm kind of excited about the idea of having one at the very very very end. First of all, it gives us something to look forward to all summer long and secondly we're all grown up & nobody has to "go back to school," so why not visit the beach when we can have it mostly to ourselves? …. And now I'm currently daydreaming of a sleepy & solitary beach, with a pina colada & fabulous book in hand, of course.
Wishing you all a happy Friday! And as always, thanks for stopping by the blog. Don't forget to follow the Lone Star Looking Glass on Pinterest, Facebook, Twitter & BlogLovin for fashion inspiration & more!
—
alice
photography by lauren beatty